Sound Attenuator
The Sound Attenuator is a system intended to attenuate noise in ventilation ducts from the ventilator and air conditioning systems. It stops noise from moving between spaces. To meet the specifications of each application, we give a large range of regular or custom-engineered sound attenuators. Our sound attenuators are an excellent choice for residential, commercial, or mixed applications, and are designed to minimise noise produced by air or gas flow without hindering air or gas flow. We are a reputed manufacturer and supplier of products for noise reduction. We deliver a complete range of Circular Sound Attenuators at industry leading rates in different specifications.
We are specilaized in manufacturing wide range of Double skin filled with high grade material like expanding polysoscyanute foam/ rigid polyurethene foam as per specifications with advance manufacturing technology.
Types:
✔

RECTANGULAR SOUND ATTENUATOR

✔

CIRCULAR SOUND ATTENUATOR

✔

CROSS TALK ATTENUATOR
RECTANGULAR SOUND ATTENUATOR
Sound Attenuators are used to minimize noise in air distribution system.For applications where high levels of noise reduction are required, rectangular attenuators provide optimal acoustic results. For most applications incorporating sound attenuation and airflow, these attenuators are ideal.
construction
✔

Outer casing made of 20g galvanized Steel Sheet.

✔

Attenuating Splitters made of 22g GSS frame and filled in with Layers of Protective Tissue over highly absorptive fiberglass insulation enclosed in 26Gauge Aluminium perforated Sheet.

✔

Casing with special design TDF, Square slot corners( same as Duct flange), for better

✔

alignment with duct & low air leakage.

✔

Splitters have conical end at both the ends to minimise air pressure
Features
✔

Casing with Special designed TDF, Square slot corners ( same as Duct flange),

✔

for better alignment with duct and low air leakage.

✔

Splitters with conical Ends for minimum pressure drop.

✔

Available with various configuration of air way gap.

✔

Optimised pressure drop and noise reduction with proper selection of air gaps.

✔

Available in any cross sectional size.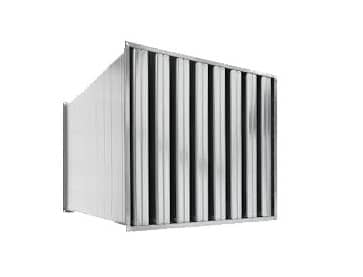 CIRCULAR ATTENUATORS
Outer Casing made of 20g Galvanised Steel Sheet. Inner casing with 24g perforated Galvanised steel sheet. Casing is made with pitsburg joint and connection spigots. Attenuation coating is made up with supportive tissue layers over highly absorbent glass fibre insulation
Features
✔

Minium Pressure drop at optimised noise level.

✔

Suitable for low velocity duct system to high velocity duct system

✔

Silencer ends with circular flanges for easy concavity with the system.

✔

Fabricated in modules to make the overall silencer bank.

✔

Available with any cross section.

✔

Available in various attenuating material thickness
(50mm, 75mm & 100mm)